Showcasing fine art textured landscape oil paintings from an emergent British Visionary artist. Journeyboy's work incorporates local & far-flung landscape features, atmospherics and personal situations to create textured "emotional photographs". His work has been exhibited in the UK, Europe and the USA.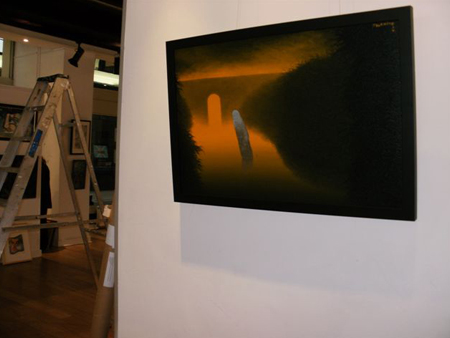 La Galleria Pall Mall, AOI annual show 2010
"Your work is intriguing — the phallic symbolism is strong with a sense of isolation almost alienation. These are timeless images, they evoke an esoteric sense of place — it's like a secret unfolding before your eyes."
"The works seem to be opposites chasing equilibrium including rural/urban, male/female, carnal/spiritual and ultimately yin/yang. The landscapes are dynamically layered, almost animations in waiting, giving the sense of starting a trip which will take different viewers to different places, perhaps from the conscious to the unconscious."
"Your picture is in our living room. People both like it very much and are intrigued by it… attracted by the colour of course, the ethereal feel and the texture."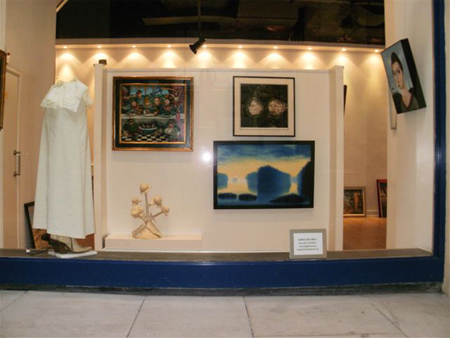 La Galleria Pall Mall, AOI annual show 2010
"Really gorgeous work — very compelling."
"Must say I'm incredibly impressed with your work. I saw one of them on the website for the show at Gmex but it wasn't until I saw them in real life that I got an idea of the amazing texture involved — your style is really original!"
"I found your work beautifully haunting, the images of this captivating world you have created have lingered with me since I saw them at the GMEX on Saturday… I just wanted to let you know how thought provoking I found your work."
"Riverbed of Circumstance is my favourite piece as I love the feeling of movement it portrays. They are the sort of paintings which at first glance appear to be very simple, however the more you view them, the more you get out of them."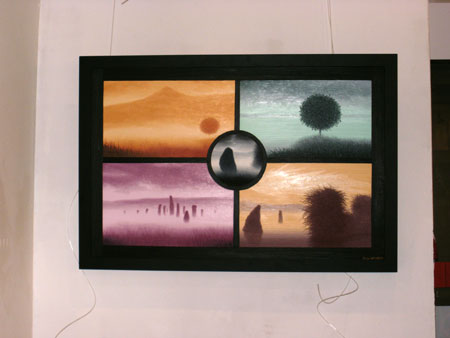 La Galleria Pall Mall, AOI annual show 2011
"DON'T LAUGH but whenever I look at it I feel like a voyeur overlooking the erotic! Can't explain why??"
"Your work does stand out, partly due to your landscape themes, and also for the mysterious peace you generate. I have received some e-mails from viewers who particularly mention your work as their favourite."